I wrote this dance on August 17, 2021, with the intention that it be danced at the 2021 Playford-to-the-Present (P2P) ball, an annual event sponsored by Culver City English Country Dance, the group I call with most often. Our ball was held (thank goodness!) on Saturday October 9, 2021, at the Scottish Rite Cathedral in Pasadena. We weren't sure if we were going to be able to hold the ball because of the Delta variant of the coronavirus pandemic. Thank goodness it was able to move forward, and as far as I know, no one got sick. It was a wonderful event, if smaller than usual, and everyone had a great time.
I wrote the dance fairly quickly on that Tuesday afternoon, and then tried it out with a group of dancers at that night's Dance Kitchen (a monthly opportunity held by Darlene Hamilton for callers and choreographers to practice and try out new works). I made a minor change to it a week later, switching the last two figures, and then danced it again (the second video below). Then we debuted it at the P2P ball (this first video).
The dance was written as our triumphant return to dancing after the pandemic. It begins with a solo for the Right-side 1, to commemorate the months of dancing alone on Zoom, before opening up and dancing with more people. After months of dancing by ourselves, alone in our rooms yet together over Zoom, we're so happy to finally be dancing again with other people.
The tune is Owen Morrison's beautiful waltz "Daybreak," written in 2009 and published in the Waltz Book Vol IV. Huge thanks to Owen for his permission to use the tune. I also recommend the two recordings of Daybreak, one by Owen himself, on his same-titled album, and one by Elixir on their album Rampant (both available through Owen's website).
Awakening
An English Country Dance by Renée Camus
©August 17, 2021
Final Version: August 24, 2021
Tune: Daybreak, by Owen Morrison, 2009
Duple minor longways
Easy-Intermediate
AB ad lib (AB=16 mm each)
3/4 (q=115-120)
A
1-4
Solo for Left file #1: using crossover setting steps, "visit" partner, neighbor,
corner, then back to home (pulling Left shoulder back to come home)
5-8
1s face across: crossover set (to the L then R), then Hole in the wall cross
9-12
Take hands 4 and crossover set (to the L then R), then balance the ring
turning it halfway around to the Left (end progressed, 2s improper)
13-16
All Right-shoulder walkaround, then turn single Left
B
1-4
With new neighbors (above or below), R-hand star halfway then turn single Left
5-8
R-hand star halfway (again, with same people) and turn single Left
9-12
With original neighbors, circle Left once around
13-16
All Right-shoulder walkaround, 1s once around, 2s 1½ (or half if dizzy)
This dance uses a crossover setting step similar to Irish Lamentation (at least the West Coast interpretation); it's essentially the cross-step waltz basic: dancers start by crossing their Right foot over to the left side. It's the opposite of what we want to do for a basic country-dance waltz. Move toward your left side with your right foot.
A 9-12: "Balance the ring" travels more than we think, halfway rather than quarter around, so it needs to be a little stronger to get around.
On the transition from A to B, the Right file people need to turn single a little more than once around in order to be ready for the R-hand star.
B 5-8 is another R-hand star, rather than L-hands back. It's slightly counter-intuitive, but there's time in the music to smooth out the transition into it (it's a "poise point," as Brooke Friendly might say).
Shorter sets may be better so that more people have an opportunity to dance the different roles.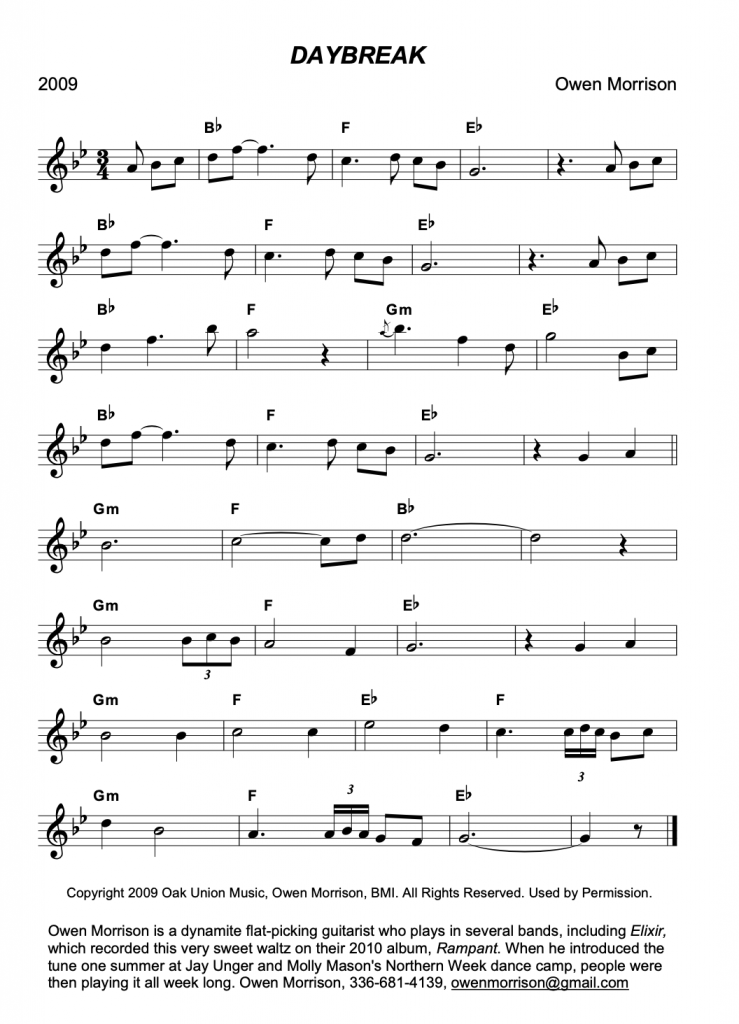 See more of my English country dance choreographies.