I wrote this dance, "Little Grey Cat," on January 16, 2023, for my friend Katy Muzikar, in honor of her "little grey cat" Tricksy. Katy won the dance at the Hey Days auction in June 2022. The tune is "The Shepherdess," a traditional Irish jig, played here by Alasdair Fraser and Paul Machlis (which I edited to repeat). The tune is from their excellent 1996 album "Skyedance," still available on Fraser's website.
This is my second commissioned English dance, a result of the same 2022 Hey Days auction for which I wrote "The Artful Dodsons." My friend and Dance Kitchen compatriot Katy Muzikar won the bid, which Allen and Alisa Dodson matched, resulting in my writing two dances. While "The Artful Dodsons" came together fairly quickly (except the title), I took a bit longer to write Katy's dance — I think because I was stressing myself out a little. I wanted to make Katy happy and give her exactly what she wanted.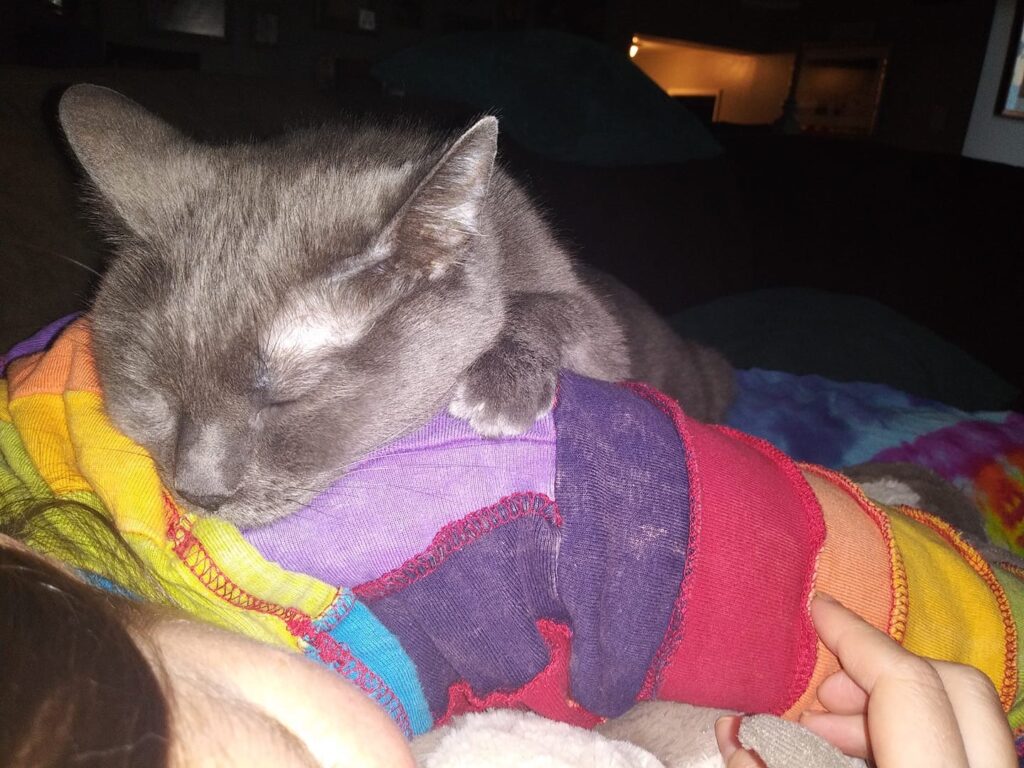 Katy wanted a dance written for her sweet kitty Tricksy (named after "Tricksy little hobbit"), who is — you guessed it — a little grey cat. She wanted a dance that was "typically" me, and she likes unique, complicated patterns, like the Mad Morris Hey I created for As You Were. For figures, she really enjoys face en face, perhaps coupled with a back to back.
I had a little trouble with it at first, in part because I couldn't think of ways to capture a cat's movements within the restrictions of ECD — for example, without using my arms. I also started working with a slip jig I loved, but it didn't work; the musical phrases were too short to accommodate everything I wanted to do. Happily the slip jig became its own new dance, "Wink."
So I switched tunes, to "The Shepherdess," and started from scratch, listening to the music and letting it guide me. I also decided to take a more abstract approach to the movements, staying more within the traditions of ECD to allude to movements cats are known for. I'm very pleased with what I came up with. The A figures represent Tricksy rolling around in a sunbeam, while the B figures represent the classic indecision of all cats regarding whether or not to go outside. 😊
Katy danced with us when I took it to the Dance Kitchen and she was pleased with it too. Success! Thanks again to all the Dance Kitchen dancers for their testing help and feedback.
Little Grey Cat
An English Country Dance by Renée Camus
©January 16, 2023
Final instructions: February 3, 2023
Tune: The Shepherdess, traditional Irish
Duple-minor longways
Easy-Intermediate
AABB (8 bars each)
6/8 (dotted quarter = 108)
A1
1-4
On the diagonal, all go forward and back.
5-8
All spiral in a half-circle to the L (R-shoulder into the center; no hands),
then cast over L-shoulder one place (end 1 place to L from home).
A2
1-8
All repeat, with spiral circle to R (L-shoulder in), and cast over R-shoulder.
End at home.
B1
1-4
Partners back to back.
5-8
Neighbors take inside hands and gate halfway around (1s moving forward,
2s backing up) to face out, then set. (End progressed and proper.)
B2
1-4
Partners face en face (R-shoulder).
5-8
1s cast up the outside of the set and lead down the center, while 2s lead
down the center and cast back up to progressed place (loop in to face
each other to start).
Teaching notes:
A1 and A2 5-8: As you spiral in, the circle will ideally get a little tighter and then open out again with the cast. Try to catch your corner's eye before casting over your shoulder.

B2 1-4: Face en face is a reverse back to back: Standing with your back to your partner, fall back passing R-shoulder, move slightly to the right, then go forward passing L-shoulder to place.

See more of my English country dance choreographies.